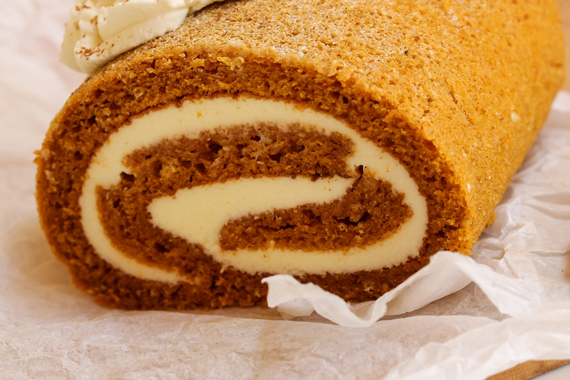 Pumpkin Roll
2016-04-23 17:45:14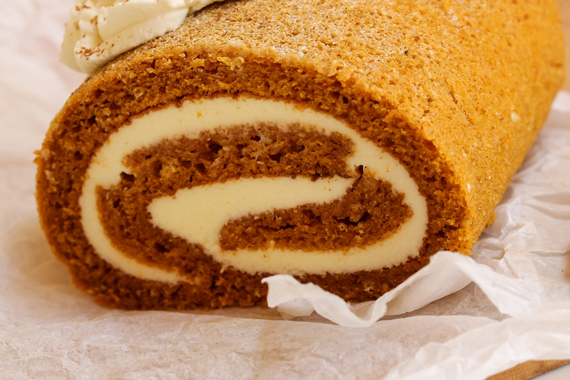 Cake Ingredients
2 2/3 cups Pumpkin Cake mix
3 eggs (egg free- omit eggs & add 3 Tablespoons of water to replace eggs)
1 1/3 cups canned pumpkin
3/4 cup oil
Filling Ingredients
8 oz. softened cream cheese
1 cube softened butter
2 cups powdered sugar
2 tsp vanilla extract
Instructions
Mix all ingredients in stand mixer for about 1 minute.
Preheat oven to 350 degrees.
Grease 15x10 inch jelly-roll pan.
Line pan with wax paper than grease and flour paper.
Spread dough evenly into prepared pan.
Bake for 20-25 minutes or until top of the cake springs back when touched.
Immediately loosen and turn cake onto towel (sprinkled with powdered sugar) and carefully peel off paper.
Roll up cake and towel together, starting with the narrow end.
Cool on wire rack.
While cake cools, prepare filling (mix all ingredients together and beat on low speed until light and fluffy).
When cool, carefully unroll cake. Remove towel.
Spread filling over cake then re-roll.
Wrap in plastic wrap and refrigerate at least one hour.
Cut and serve.
Optional
Sprinkle with powdered sugar before serving.
Sun Flour Mills http://www.sunflourmills.com/