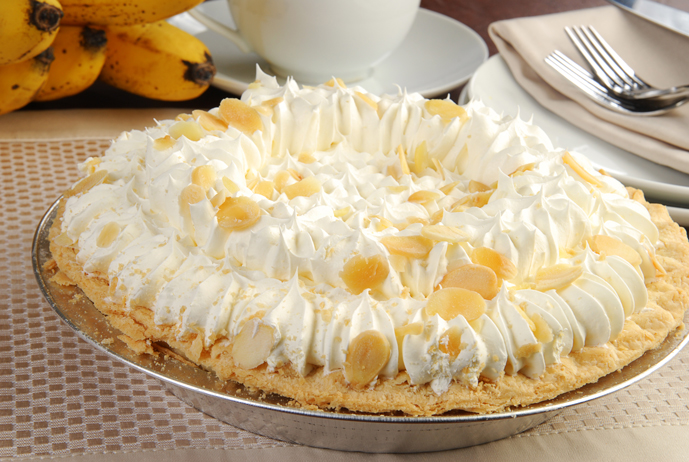 Banana Cream Pie
2016-04-23 18:02:22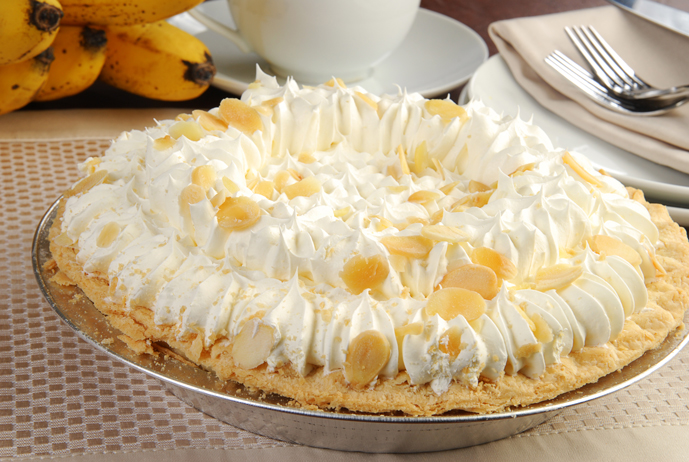 Filling Ingredients
3/4 cup white sugar
3 Tbsp corn starch
1/4 tsp salt
2 cups vanilla rice milk or milk
3 egg yolks
2 Tbsp dairy free margarine (Nucoa) or butter
2 tsp vanilla extract
2 bananas
Crust Ingredients
2 1/2 cups of Sugar Cookie mix
1/3 cup butter or margarine (Nucoa)
1/3 cup shortening
2 eggs (egg free- omit eggs & add 2 tsp egg replacer dissolved in 1/3 cup water & 1/2 tsp vanilla)
4 Tbsp melted butter or margarine (Nucoa)
Filling Instructions
In a saucepan over medium heat combine 3/4 cup white sugar, 3 Tbsp corn starch and1/4 tsp salt.
While stirring slowly, add 2 cups vanilla rice milk or milk.
Stir constantly until mixture is bubbly.
Cook for 2 additional minutes then remove from heat.
Stir a small amount of mixture with 3 well-beaten egg yolks. Immediately add egg mixture to hot filling mixture.
Return pan to heat and cook for 2 more minutes.
Remove from heat and add 2 Tbsp dairy free margarine (Nucoa) or butter and 2 tsp vanilla extract. Stir until smooth.
Crust Instructions
Make Sun Flour Mills Sugar Cookies as directed on box, but increase bake time to 15 minutes or until cookies are crisp.
After cookies have cooled, finely grind.
Mix 1 1/2 cups finely ground cookies with 4 Tbsp dairy free margarine (Nucoa) or butter.
Mix until well blended.
Press this mixture into 2, 8-9 inch pie plates.
Bake at 375 degrees for 7 minutes. Cool.
Pie Assembly
Slice 2 bananas and place into 2 prepared pie crusts.
Top with filling mixture.
Add whipped cream on top if desired.
Refrigerate until cooled, then serve.
Sun Flour Mills http://www.sunflourmills.com/