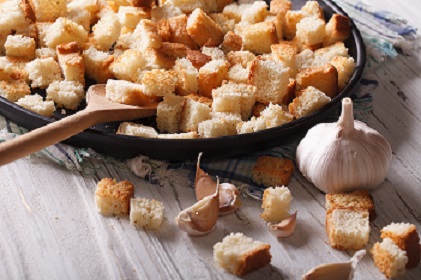 Garlic Croutons
2016-09-02 16:17:20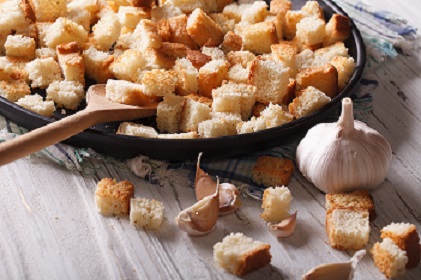 Ingredients
1 cube butter or margarine
4 cloves minced garlic
1tsp onion powder
1/2 tsp salt
6 slices Sun Flour Mills Whole Grain Sandwich Bread cut into 1/2 in-1in cubes.
Instructions
In sauce pan over medium low heat melt butter/margarine.
Add minced garlic, onion powder, and salt.
Saute for 2-3 minutes.
Pour over bread cubes. Toss to coat.
Spread on baking sheet.
Bake at 350 degrees for 25-35 minutes or until crisp and dry.
Notes
OK to store in freezer for up to 3 months, or in a Ziploc bag on the counter for 1 week.
Sun Flour Mills http://www.sunflourmills.com/