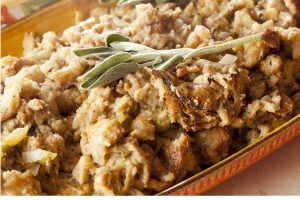 Apple, Cranberry, and Sausage Stuffing
2016-07-28 17:43:30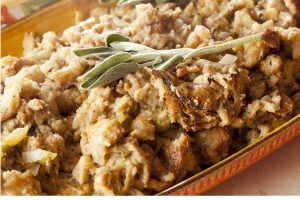 Ingredients
1 lb ground pork sausage
1 cup chopped onion
1 cube dairy free margarine (Nucoa) or butter
3/4 cups chopped celery
2 1/2 tsp dried sage
1 1/2 tsp dried rosemary
1/2 tsp dried thyme
2 Tbsp dried parsley
1 apple chopped
3/4 cup dried cranberries
5 1/4 cups dried whole grain SunFlour Mills bread cubes
1 cup chicken stock
Instructions
Bake SunFlour Mills bread as directed. Slice and then cube bread into 1/2 inch squares. Bake cubes in a 350 degree oven for 30 minutes, or until bread is well toasted.
In a separate sauce pan over medium-high heat cook sausage, onion, and butter until well browned.
Add the rest of the ingredients and mix lightly. Spoon into turkey to fill OR bake in 9x13 pan for 25-30 minutes, stirring once during baking. Cook for additional 2 minutes to blend flavors.
Sun Flour Mills http://www.sunflourmills.com/